The Rich Currents of Raja Ampat – high on the "bucket list" of most divers and underwater photographers is Raja Ampat, the Four Kings.
Located in the remote far east of the vast Indonesian archipelago, on the western end of the huge island of New Guinea, it is the incredibly rich currents of Raja Ampat and the area's isolation that have helped create the amazing biodiversity the region is now famous for.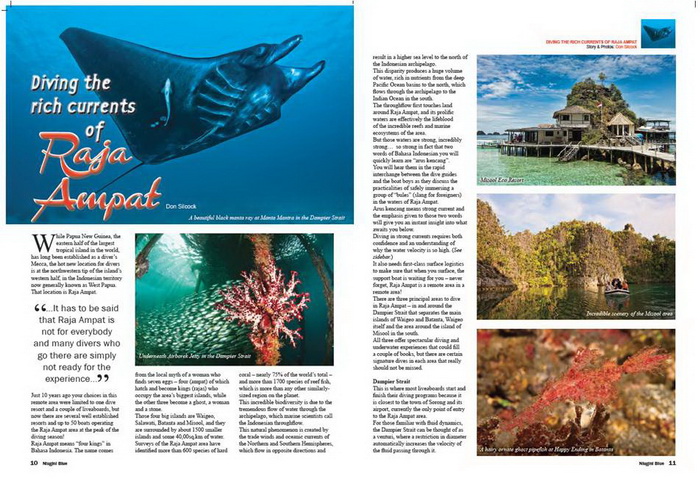 Those currents surge down from the deep oceanic basins to the north, through the Dampier Strait in to the Halmahera Sea, bringing the rich nutrients that are the life-source of Raja Ampat.
Raja Ampat covers a really large area overall, but from a diving perspective it can be divided in to four main regions – the area in and around the Dampier Strait and the three large islands of Misool, Batanta and Waigeo.
The diving in those regions is some of the very best in the world, but can be quite different from one area to another and ranges from the incredible Manta Mantra manta ray cleaning station in the Dampier Strait to the black sand critter sites like Black Beauty at Batanta.
I have documented my experience on the fantastic sites of Raja Ampat in various magazine articles and have just had another seven page article published in Nuigini Blue.
If you are interested in diving Raja Ampat you can use this link to download the Rich Currents of Raja Ampat article, plus check out the numerous new pages on my Raja Ampat location guide which has lots of information on the area plus detailed dive site descriptions and image galleries.