Oro Province in WWII was the scene of some very significant military action. Which started after Japanese forces made a surprise landing at Buna in July 1942. Establishing a base from which to launch their overland attack on Port Moresby over the Kokoda Trail.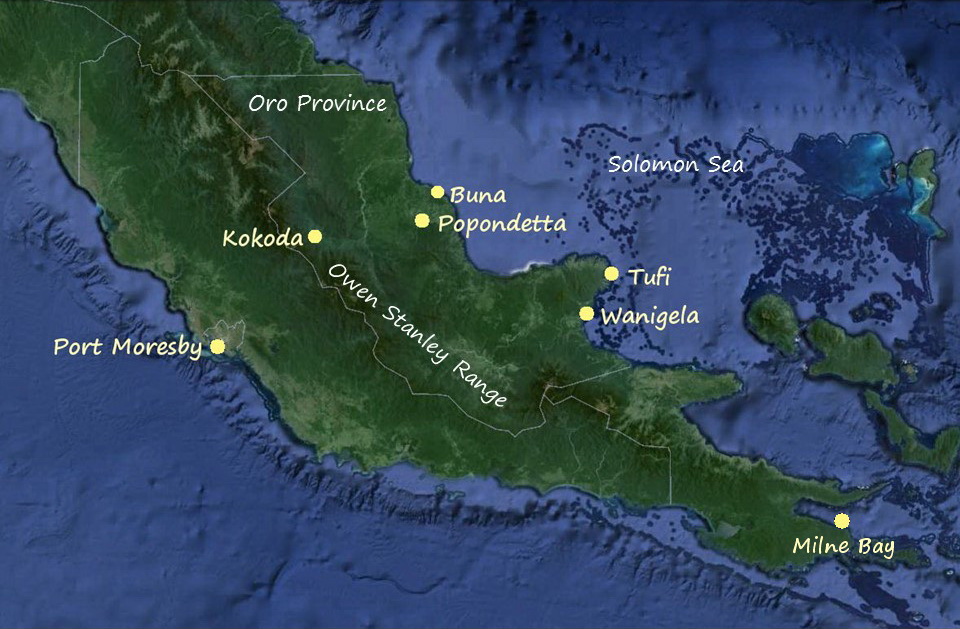 After the successful defeat of the Japanese at the Battle of Milne Bay in August 1942, the Allied forces used Milne Bay as its base in to launch its counter-attack on Buna.
Buna's remote location meant that significant logistical challenges had to be overcome for the operation to be successful. The decision was taken to establish a forward base near Wanigela Mission. Located on the northwestern shore of Collingwood bay, some 65 miles from Buna.
In October 1942, in what became known as the "Wanigela Operation" was launched. Australian soldiers managed to clear an airstrip in the dense kunai grass sufficient to bring in a company of engineers.
The engineers then built a runway… Big enough to bring in a full battalion of men and equipment for the attack on Buna.
Further north of Wanigela, Tufi Fiord at Cape Nelson was selected by the US Navy as an advanced base for the PT Boats supporting the attack on Buna.
The PT boats operated regular patrols all the way up to Buna, plus on occasions further north into the Huon Gulf and were credited with the sinking of one Japanese submarine and at least 18 armored barges.
The actual Battle of Buna started in November 1942 and was fought in horrendous conditions with terrible casualties and great human cost on both sides. It lasted until late January the following year when the Japanese were eventually defeated.