What you need to know to dive Tofo before you go… The diving in Tofo is done "South African style" with rigid inflatable boats (RIB's), which are beach-launched through the surf.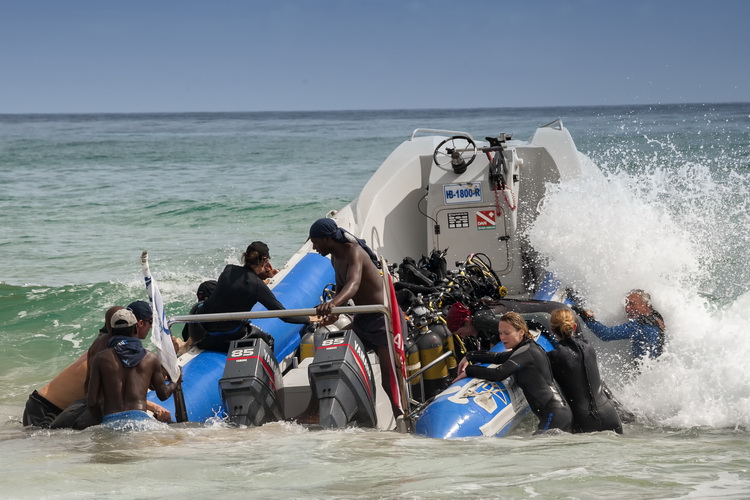 And then ran up the beach at full speed on the way back. All of which makes for a pretty exciting beginning and end to each dive!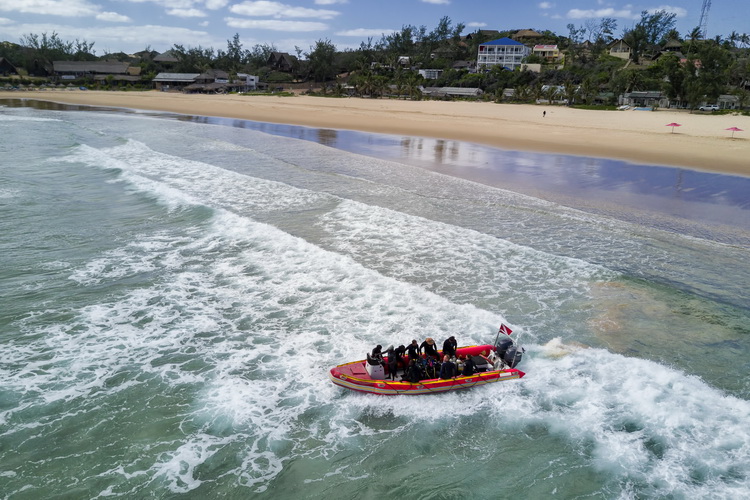 Obviously there is an element of danger in all that and the first time you do a launch it is indeed a wild ride.
But, it's been done that way for years and the crews are very well trained. With thorough briefings done every time somebody new is on board.
That way, everybody knows what the have to do and overall safety is maintained.
Know to Dive Tofo: Dive Briefings
While what you need to do during the beach-launching and landings of the RIB's is really important stuff to know. The really critical part about the pre-dive briefings is how to dive the many sites in Tofo. That is because most of the sites are fairly deep at around 20-24m, while some are even deeper at 30-35m.
Virtually all the sites are square profile dives – meaning that you have to be really careful about bottom time and avoid slipping in to decompression.
Diving is conducted as a group, with two Divemasters – one leading the group from the front. While the other acts as a "sweeper" in case people get left behind or use their air quickly.
The leading Divemaster carries a surface marker buoy (SMB). Which allows the dive-boat to easily follow and quickly pick-up divers as they surface.
Imperative to all this is what to do if you get separated from the group. The fact of the matter is that the area around Tofo is potentially subject to strong currents. They are the basic reason that the diving is so good and it is such a hot-spot for megafauna.
The SMB carried by the lead Divemaster is your connection to the dive boat and safety. The boat captain follows the buoy, which is easy to see even in rough seas… If you get separated, continue to dive and then do a safety stop during your ascent, you can easily get lost at sea! So the procedure should that separation occur is repeated at every briefing – just follow the guidance and you will be good!
Need to Know to Dive Tofo: Dive Operators
There are several dive operators in town and most have been around for a while – always a good sign! I personally dived with Diversity Scuba on my trips to Tofo and have always been very pleased with them.
They run a good operation and all their staff are well organized and trained. There is an on-site pool for dive training and nitrox is available on demand – which is a must really considering the depth of many of the sites. And a really nice touch is the rooftop cafe with excellent coffee and snacks!
Need to Know to Dive Tofo: When to Go?
Tofo in an all year round dive location, but obviously some months are better than others….
Summer in Mozambique is from from November to March, with February being the cyclone season – so obviously avoid that month! Winter is from July to October, with August and September typically windy and also to be avoided.
Manta rays are seen year-round in Tofo. But the three months from March to May are said to be the optimum time for them, with March the best month all round!
Whale sharks are also seen year-round but larger numbers are reported in both November and March. While Mola-Molas are seen regularly in October, as are schooling scalloped hammerheads.