Tufi Dive Resort… It's hard to imagine a more picturesque setting than the one enjoyed by this resort. As they say in the real estate game – location, location, location and Tufi Dive Resort is superbly located on a high ridge on Cape Nelson. Surrounded by dense and vibrant rainforest which descends right down to the water's edge.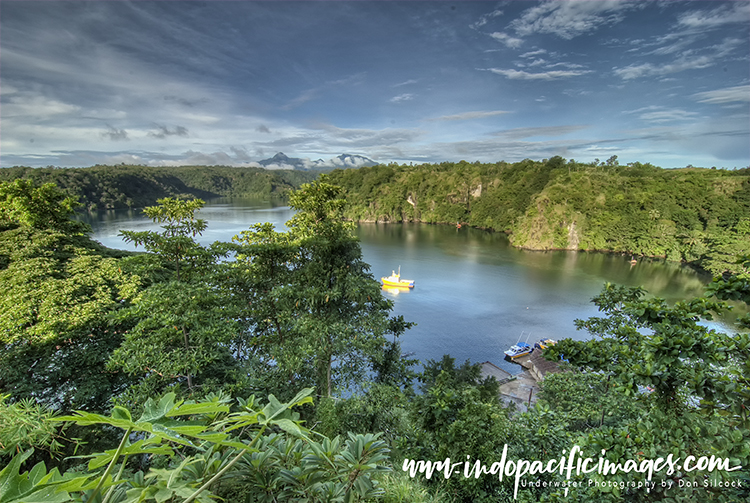 The resort consists of a very pleasant colonial style main lodge, surrounded by guest bungalows. All perched on that ridge with incredible views across Tufi fjord to Mount Victory in the distance.
Cape Nelson is without doubt one of the most beautiful areas of Papua New Guinea and Tufi is its stunning epicenter.
In the world of geology, coastal inlets like the ones on Cape Nelson are referred to as "rias". Because a true fjord is created by glaciers – large but slow moving rivers of ice that carve out U shaped canyons over thousands of years. With the fjord being what remains after the climatic conditions change and the ice melts.
Whereas rias are created by volcanic eruptions, the lava flow which creates the long and narrow coastal inlets like the ones on Cape Nelson.
Located at the western tip of the cape in Oro Province, Tufi is the second largest of the 9 tropical fjords found in the area.
The dive resort is built on the site of the original pub and hotel that served the small expatriate community prior to independence. Tufi was a settlement for the Australian Administration back then. The story of which is told rather amusingly in Colin Baker's book Doodlebuggers in Paradise.
The resort's main lodge is a single story colonial style wooden building, with wide and very pleasant verandas, which houses the common lounge, the restaurant and the bar.
The accommodation consists of a number of self-contained bungalows distributed around the main lodge. There is also a very nice terrace and BBQ. Which overlooks Tufi fiord and provides superb views all the way to the extinct volcanoes in the distance.