Underwater photography in Papua New Guinea… PNG, as is it more commonly referred to, is located just south of the Equator and to the north of Australia. It is a large and diverse nation that is known principally for its unique tribal cultures, incredible landscapes and excellent scuba diving.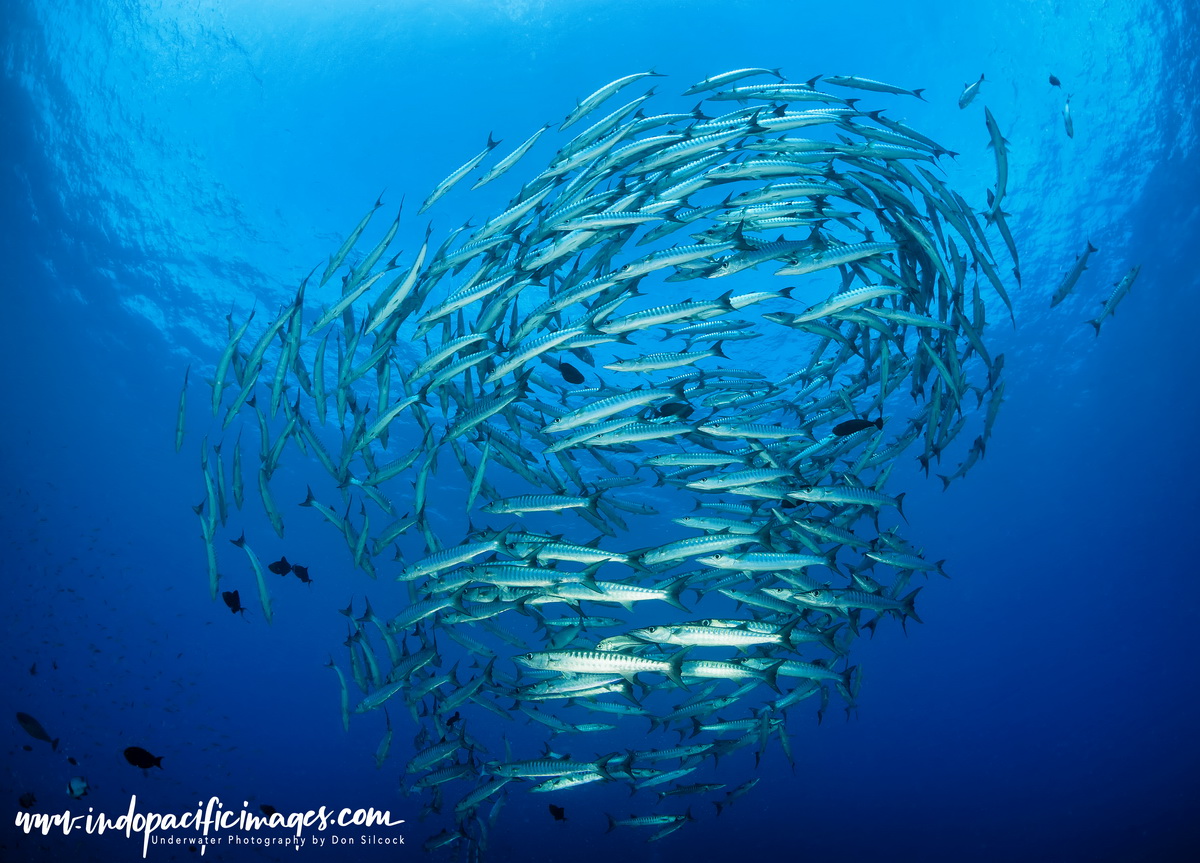 The purpose of this article is to provide an overview of the main diving locations in PNG. Along with what you can expect to photograph there, but it's a big topic… So I have tried to provide enough information and insight in to those locations. Plus links you can follow for more detailed information elsewhere on this website.
The Best Dive Locations For Underwater Photography in Papua New Guinea
The country of PNG consists of the eastern half of the island of New Guinea. The second largest island in the world (with Indonesia's West Papua occupying the other half). And then several large islands that make up the island provinces of the country.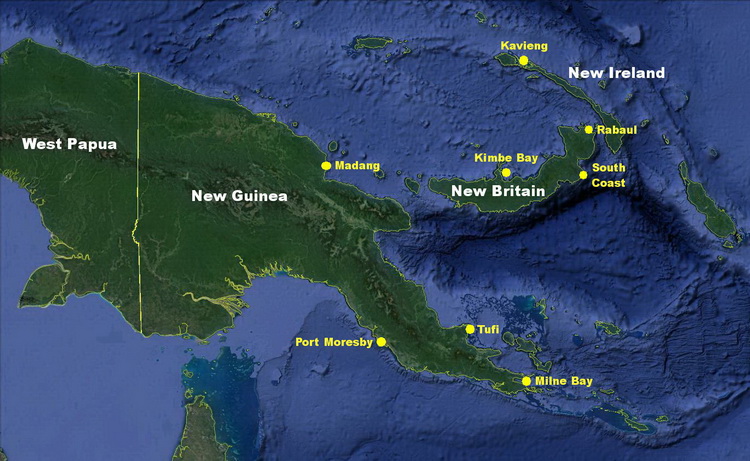 From an overall scuba diving perspective PNG can be thought of as three primary areas.
Starting with the main island of New Guinea and the well-known area of Milne Bay, with its excellent diving and phenomenal biodiversity.
There is also surprisingly good diving near the capital Port Moresby on the south coast of New Guinea.
Excellent diving at Tufi on the north-east coast and there are some really nice sites around Madang, farther up in the north-west.
Secondly, going east into the island provinces, there is the large island of New Britain. The diving on the north coast is centred around Kimbe Bay. Plus, Rabaul on the north-east tip of New Britain and then the remote south-east coast of the island.
Finally, there is the great diving around Kavieng. Located on the north-west tip of the chain of islands that make up New Ireland Province.
PNG is renowned for its traditional and tribal cultures which are incredibly diverse and location specific. If you are interested in learning a bit more about why the country is what it is, check out this link to Understanding Papua New Guinea.
Underwater Photography in Papua New Guinea – New Guinea Island
Milne Bay – The North
I tend to think of Milne Bay as the spiritual home of scuba diving in Papua New Guinea, because it is the place that really put the country on to the international diving map. It has incredible biodiversity and offers tremendous wide-angle and macro underwater photography.
Northern Milne Bay has a number of coastal reef and seamount dive sites with beautiful hard coral gardens and huge elephant ear sponges that create wonderful wide-angle seascape photo-opportunities.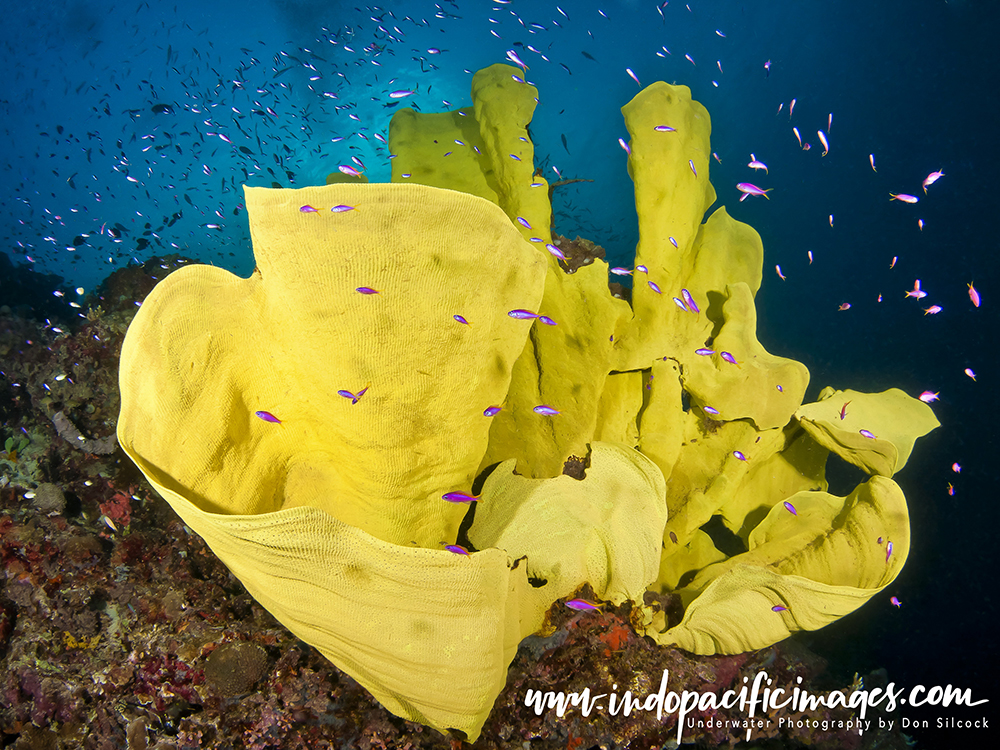 It is also the location of my personal favourite reef site in all of PNG – Deacons Reef. Deacon's is densely covered in healthy hard corals, beautiful gorgonian sea fans and simply teems with anthias and countless other small reef fish. It is an absolute delight to dive and offers incredible wide-angle photo-opportunities!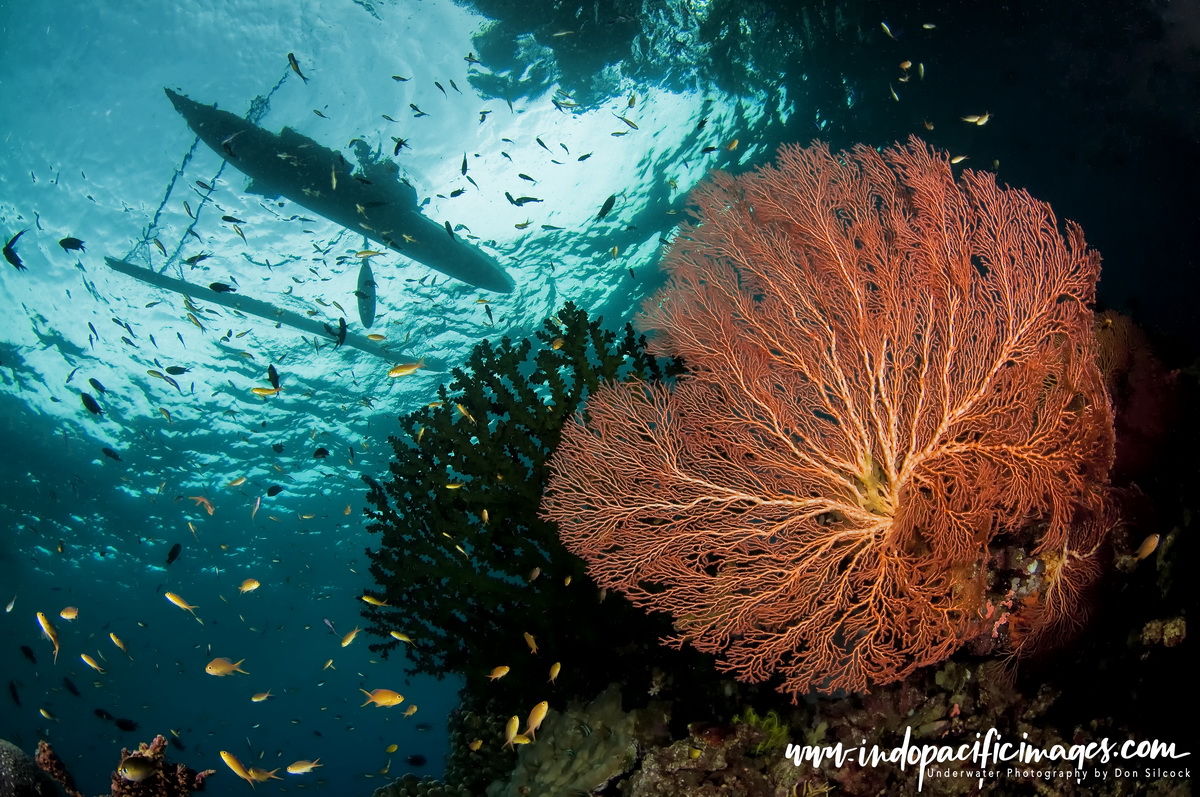 But wait, there's more… as next to Deacons is probably the best known macro site in the north of Milne Bay – Dinah's Beach in front of the small village of Lauadi.
Dinah's Beach is where muck diving was born… For it was at Dinah's that the late Bob Halstead, one of the original pioneers of diving in PNG, first persuaded some well-heeled American guests on his liveaboard the Telita to forego the delights of nearby Deacon's Reef and try diving where there is no beautiful scenery.
The rest is kind of history now but if you want critters, then the black sand slope at Dinah's Beach is where you need to go!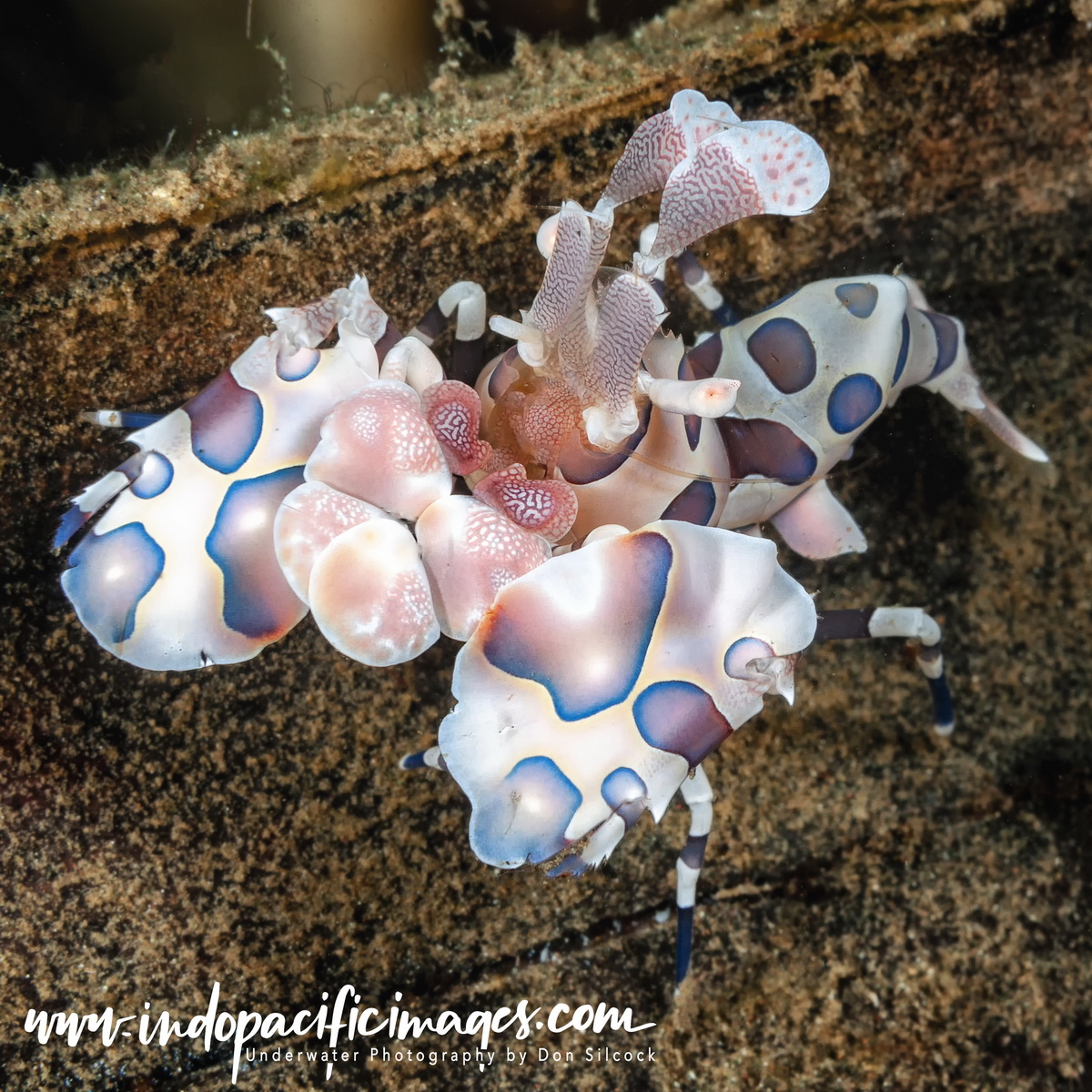 Milne Bay – The South
The south of Milne Bay has a number of macro sites, with probably the best known and most prolific being Samarai Island jetty. Back when Papua New Guinea was an Australian colony, Samurai was the provincial capital of Milne Bay. It was a bustling and thriving location. But those heady days have long gone and what is left of the settlement is in poor condition.
As is the jetty… but underwater it has been colonized by a wonderful assortment of critters and you can spend hours there!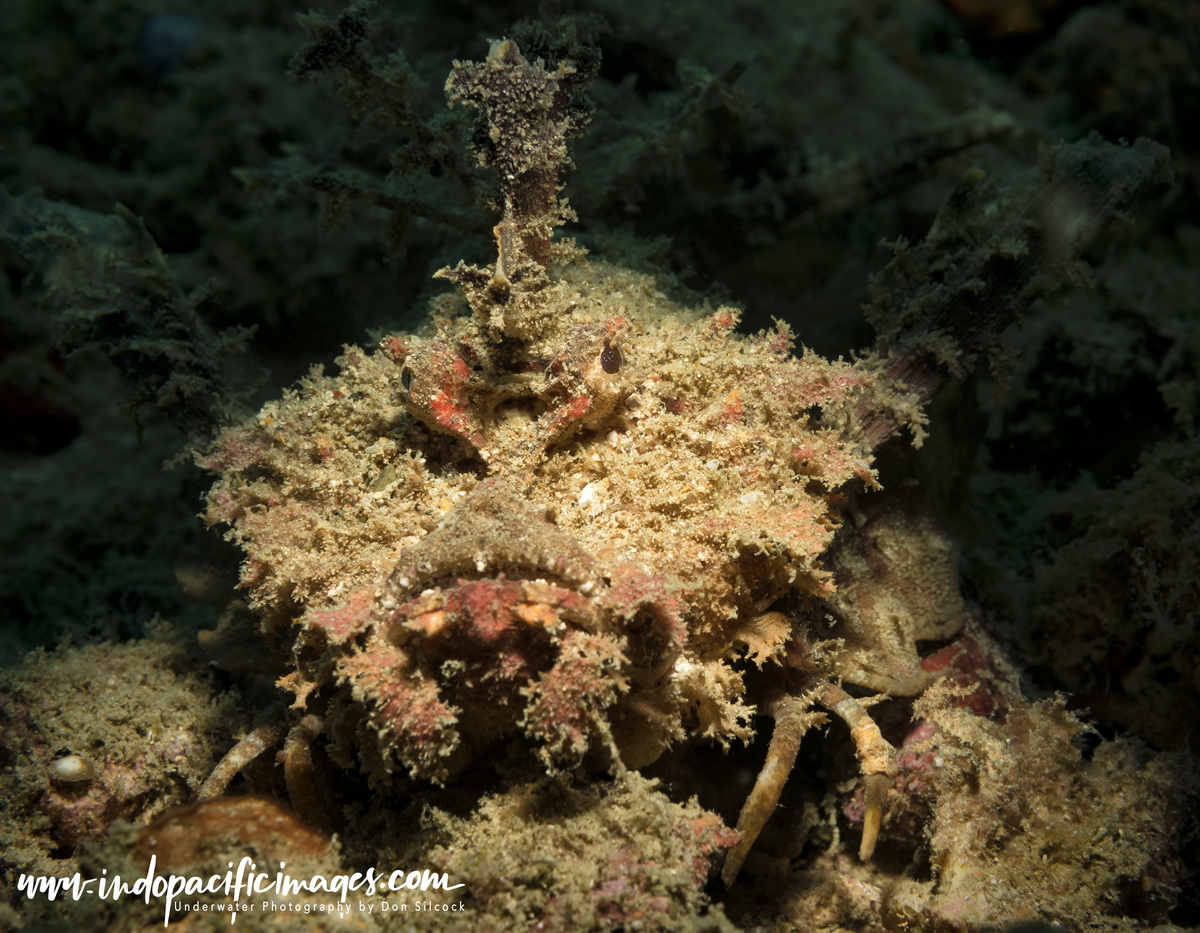 The other must-do site in the south of Milne Bay is the excellent manta ray cleaning station Giants@Home – the best place in all of PNG to see reef mantas (Manta alfredi).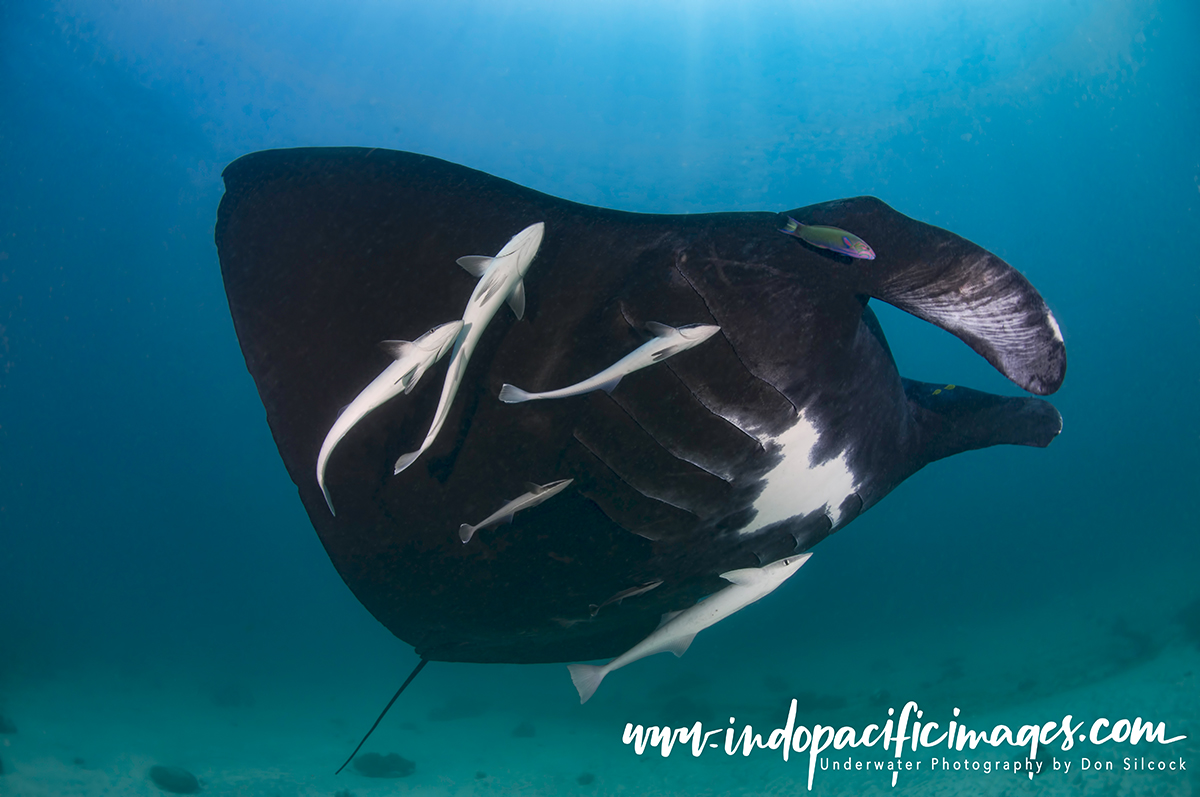 Check out the Complete Guide to Diving Milne Bay for more information on this wonderful area of Papua New Guinea.
Port Moresby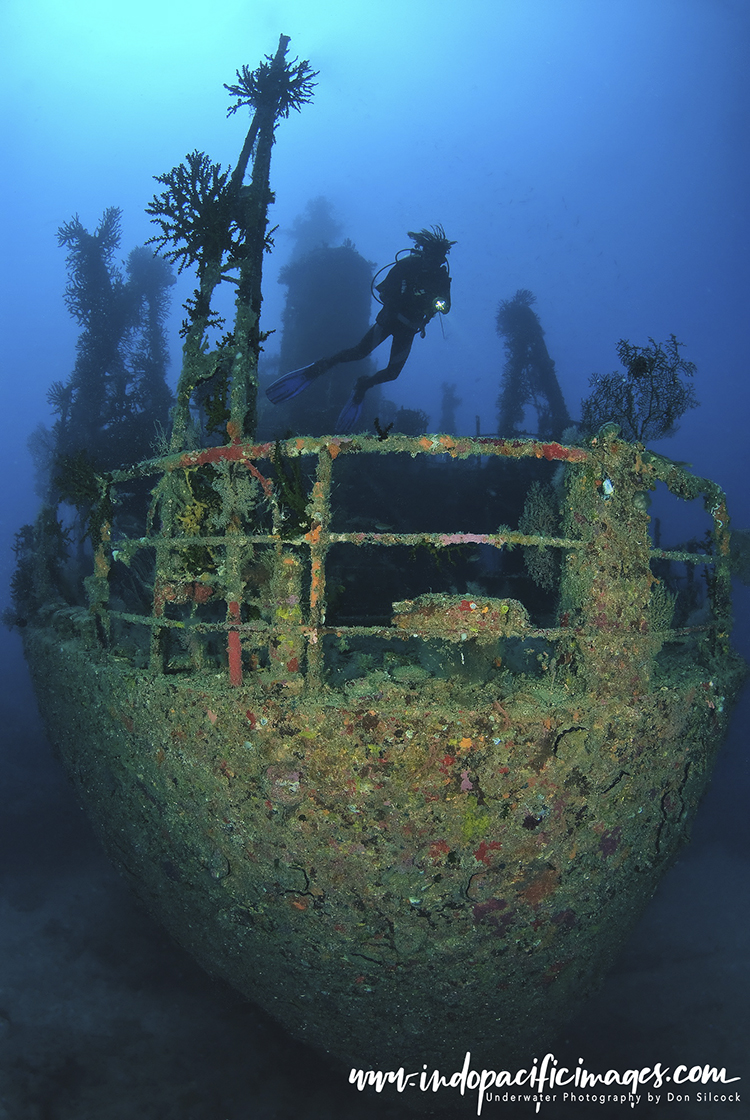 The capital of Papua New Guinea suffers from a really bad reputation…
So much so, that most diving tourists try to get through Moresby and on to their final destination as quickly as possible.
But get past that reputation and, contrary to what you might expect so close to a capital city. There is actually some very good scuba diving around Port Moresby.
The best sites are on the offshore and sunken barrier reefs, some 15 to 20km out from Port Moresby.
There are at least 15 dive sites on those reefs. Many of which offer everything from the elusive rhinopias to schooling barracuda.
You could easily spend several days diving those sites… A few of which can be absolutely stunning in the right conditions.
There are however a couple of sites that really offer something special for underwater photographers, with the wreck of the Pacific Gas topping my personal favorites list…
Originally a Japanese gas tanker called the Nanayo Maru. The ship became the MV Pacific Gas when it was sold to the Australian company Liquefied Gas Carriers in 1972.
The Pacific Gas transported gas cargoes between Australia and PNG until it was decommissioned in 1980. Eventually being scuttled on sunken barrier reef in 1986.
The right weather conditions are required to dive the Pacific Gas… But if you get those conditions, it is an excellent wide-angle photograohy dive and one of the best shipwrecks in Papua New Guinea!
For macro photography in Port Moresby you are almost spoilt for choice! With a tremendous range of subjects across those offshore sites… But if I had to pick just one location it would be End Bommie and its resident Rhinopias!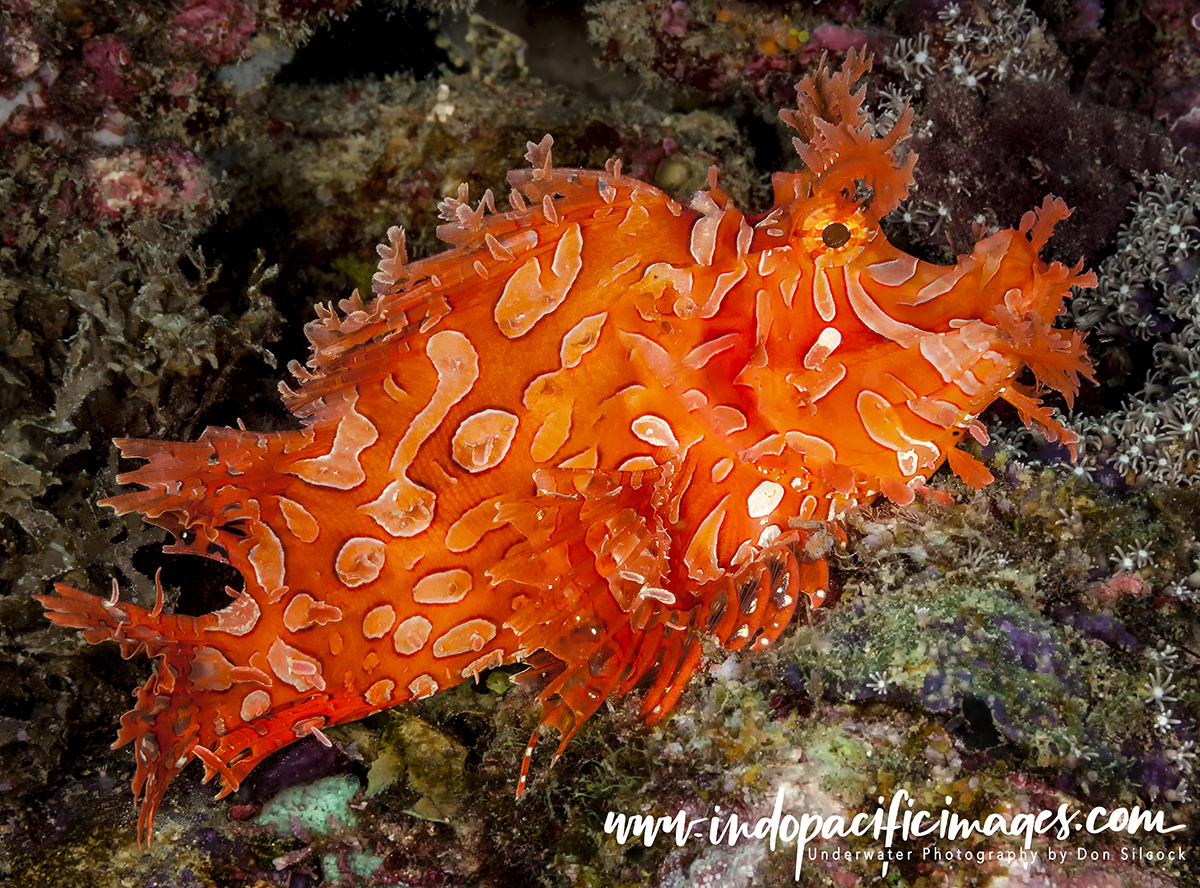 Check out the Complete Guide to Diving Port Moresby for more information on the capital of Papua New Guinea, plus how to stay safe there.
Tufi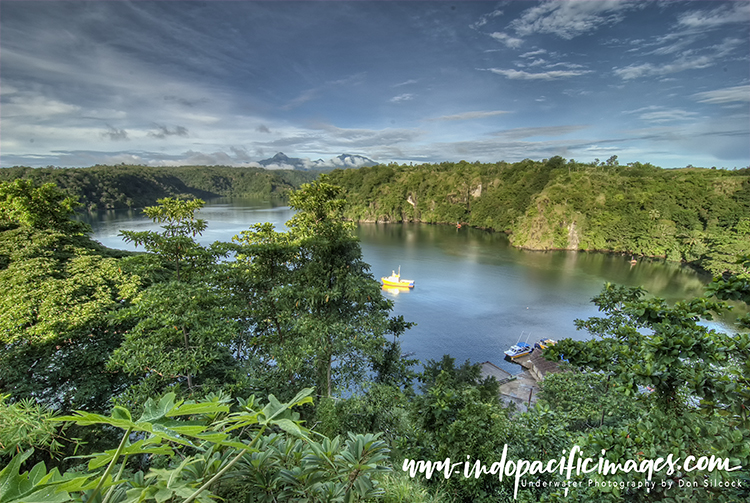 Located in the spectacular tropical fiords of Cape Nelson in Oro Province on the north-east coast of New Guinea. Tufi is without doubt one of the most scenic places in all of PNG.
And it is also one of my very favorite locations for scuba diving in Papua New Guinea.
Physically Oro Province is isolated by the formidable Owen-Stanley mountain range. So Tufi is only accessible by plane or the long way around by ferry from Port Moresby. There are simply no roads…
The diving comes in four flavours at Tufi. First of all there are a more than 25 excellent offshore reefs which offer a variety of wide-angle photo-opportunities.
Those reefs are really only dived by visitors to Tufi Dive Resort, so they are quite remote and, while not virgin territory, you will not see any other boats out there!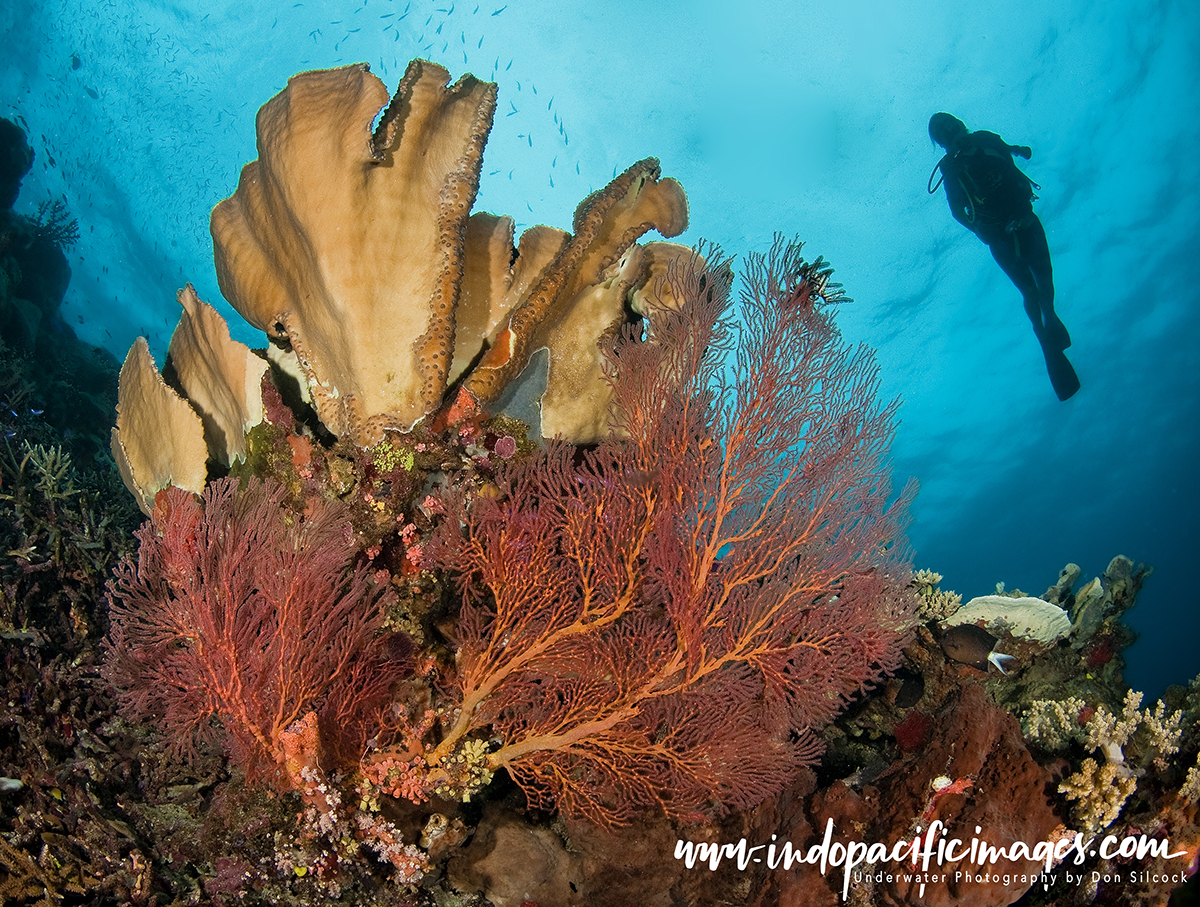 Then there is some really good critter hunting to be had right off the dive jetty in the main Tufi fjord. What you will see really depends on the time of year and the water temperature. But generally speaking, the cooler the water the more exotic the critters are as they move upwards in the water column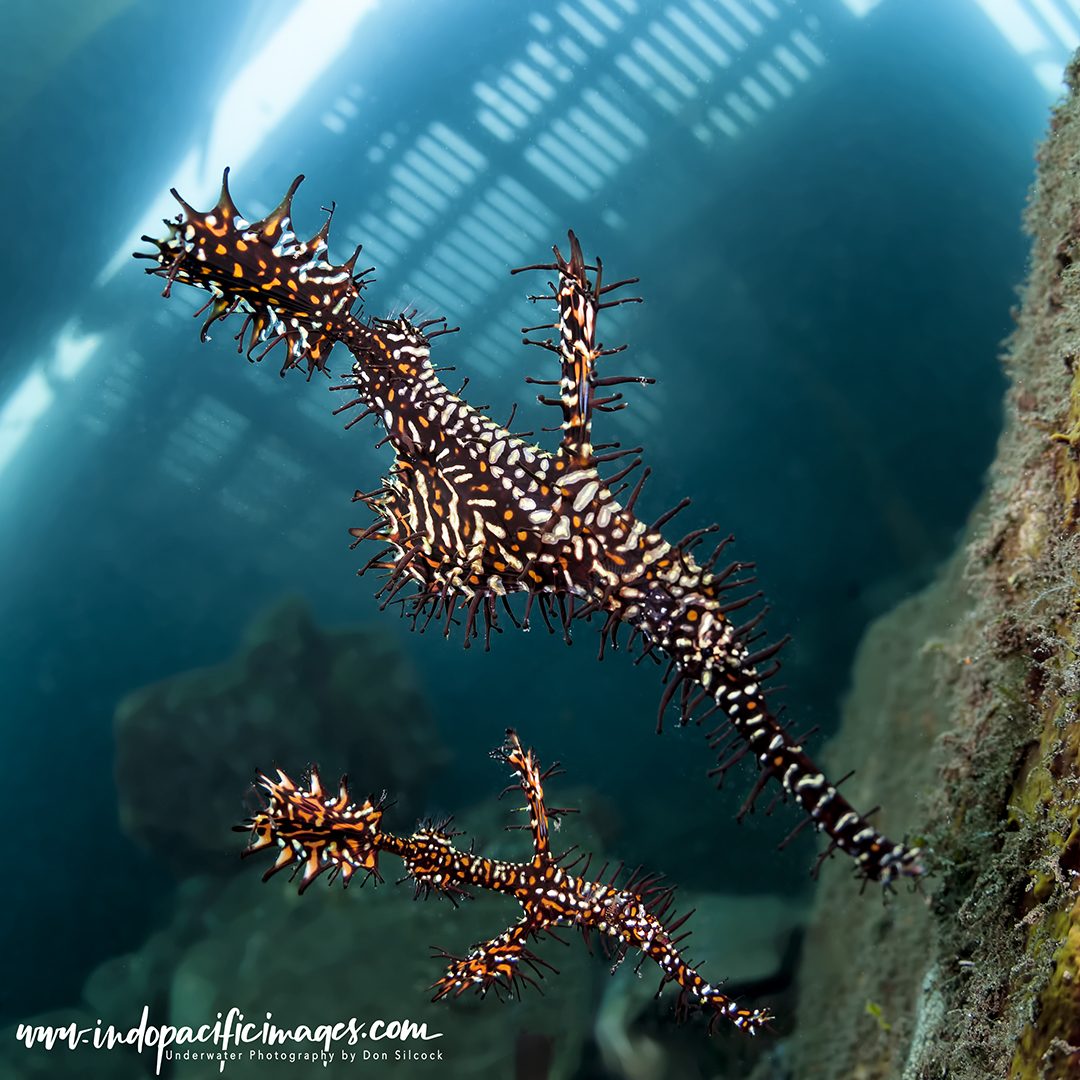 The third option are the "fjords" themselves. Which although they look like tropical versions of Norway's glacier created deep inlets. The ones around Tufi are "rias" and are the result of ancient volcanic eruptions.
Diving them is a quite unique experience. For me, the highlight of diving the fjords are the incredible sponge gardens and the wide-angle photo-opportunities they provide.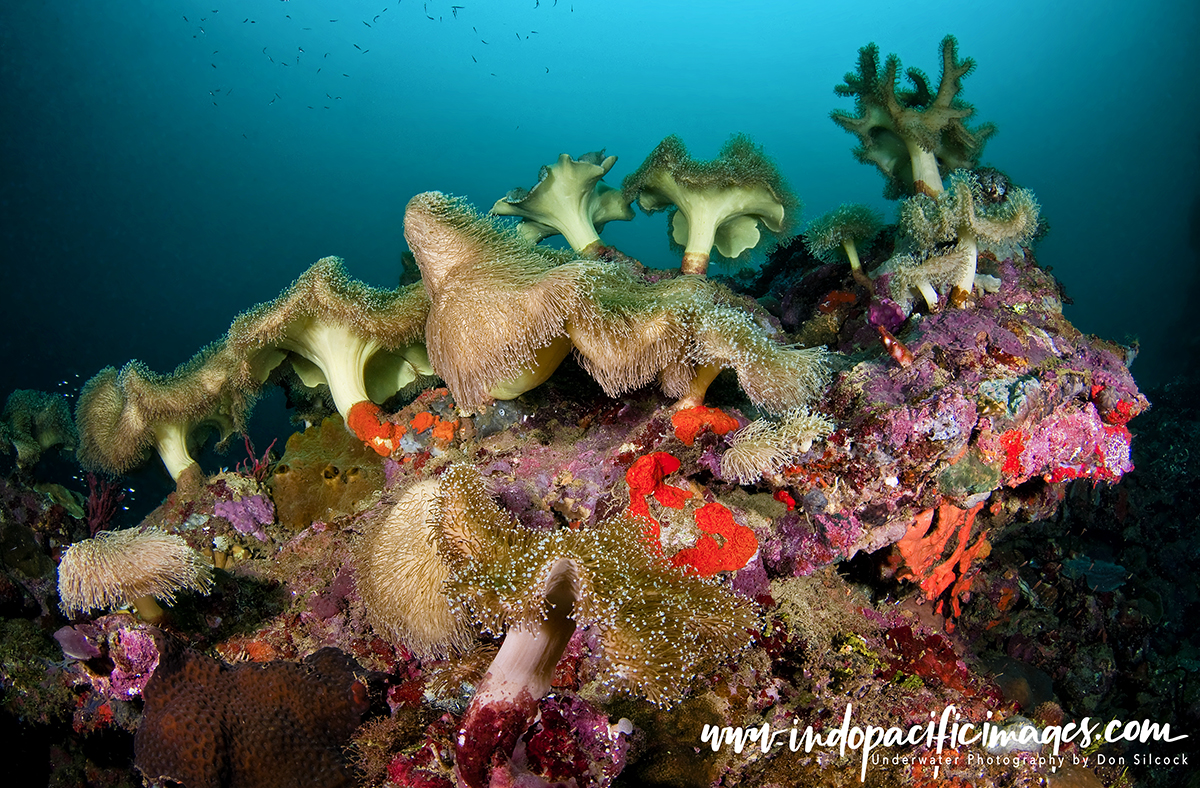 Finally the resort periodically dives the incredible B17 Black Jack aircraft wreck on as requested basis. Black Jack is for me the best WWII aircraft wreck in all of Papua New Guinea and it is an incredible, if somewhat challenging dive because of its depth and location.
Very much a wide-angle dive…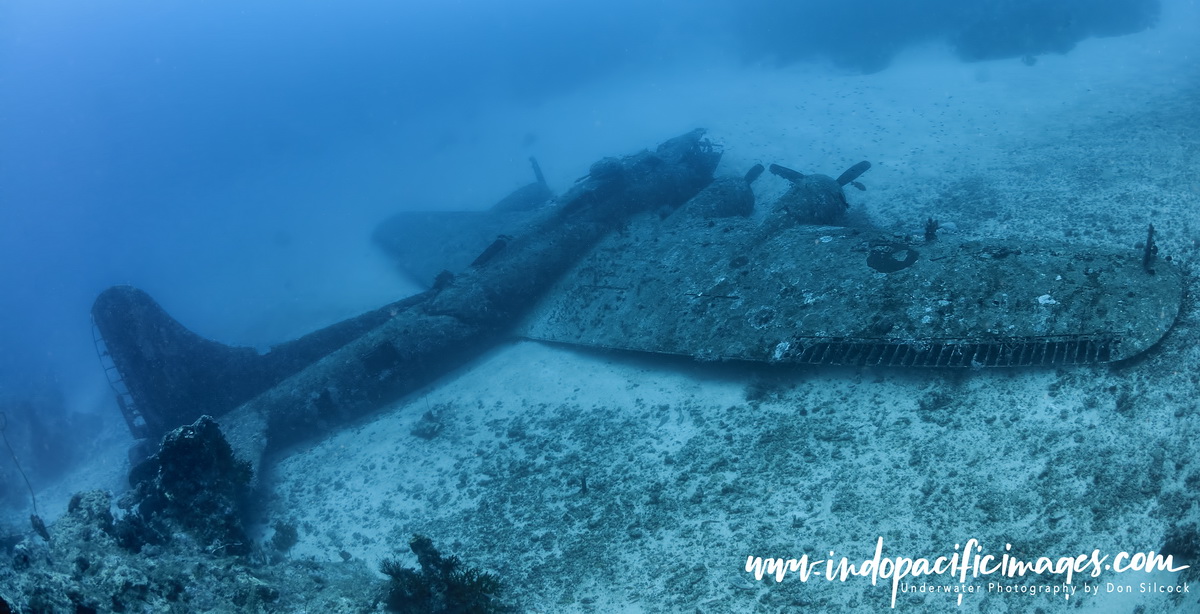 Check the Complete Guide to Diving Tufi for more information on this incredibly scenic part of PNG.
Underwater Photography in Papua New Guinea – New Britain
Kimbe Bay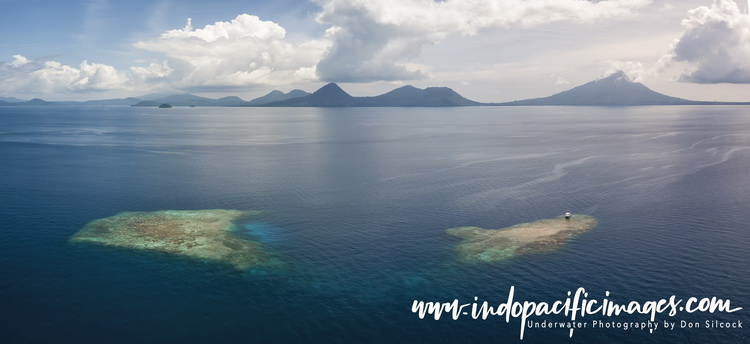 This large bay on the north coast is to New Britain, what Milne Bay is to the main island of New Guinea, and offers a similar level of biodiversity, great dive sites and superb marine life.
There are numerous excellent sites in Kimbe Bay itself – the majority of which are fringing type reefs, rich in healthy hard corals, colourful sponges and beautiful bright red seawhips.
Plus, there are three exciting seamounts which are basically self-contained ecosystems, that are located in very deep water and attract passing pelagics entering the bay from the Bismarck Sea to the north.
Then to the northwest are the remote Witu group of volcanic islands, with its unique Garove Harbour located inside the crater of an extinct and submerged volcano. While to the northeast of Kimbe Bay are the superb Fathers off-shore reefs, which are the remains of a huge extinct volcanic caldera.
Photographically all three areas offer superb wide-angle reef scenic opportunities. Plus the three seamounts in Kimbe Bay have resident schools of barracuda which are quite used to divers…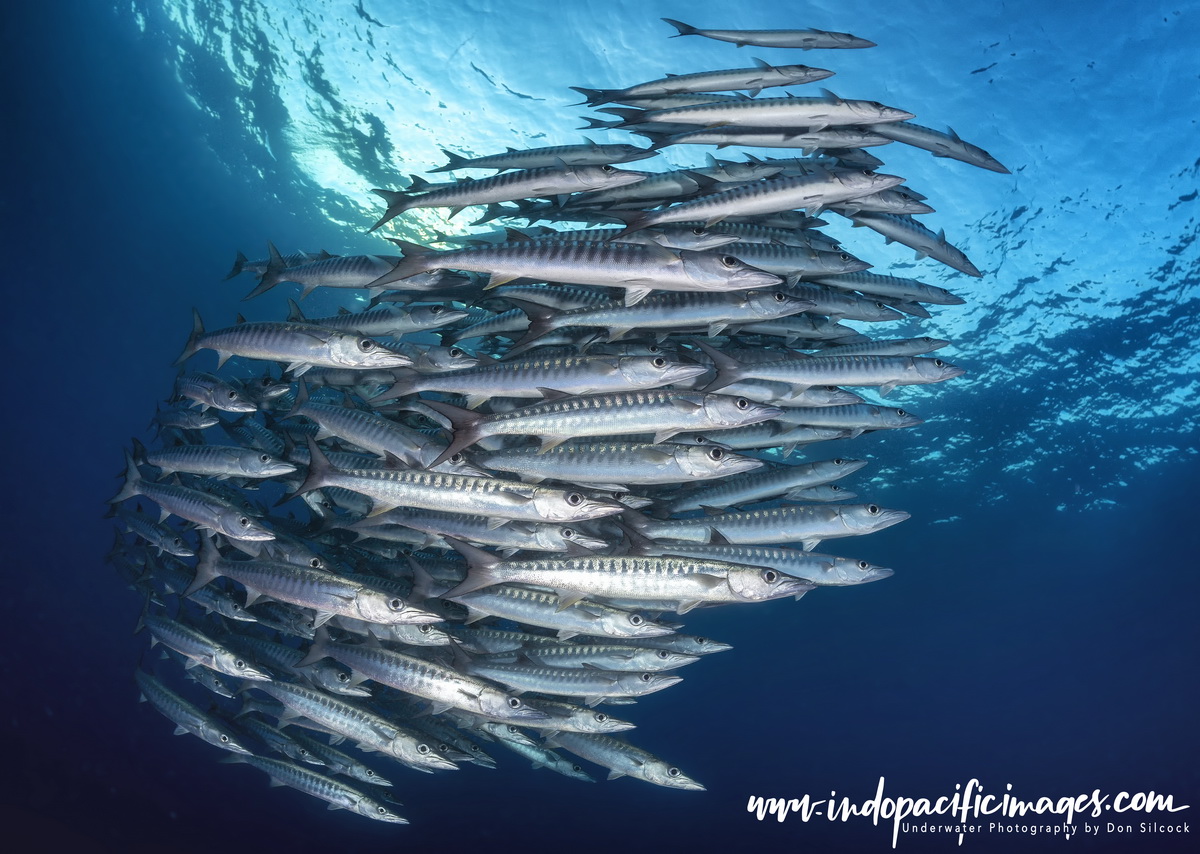 Kimbe Bay also a unique WWII aircraft wreck site with the beautifully preserved Mitsubishi Zero Wreck, which is very much a wide-angle type of dive!
Kimbe Bay reefs all have a variety of macro subject matter, but there are no dedicated sites like Dinah's Beach in Milne Bay.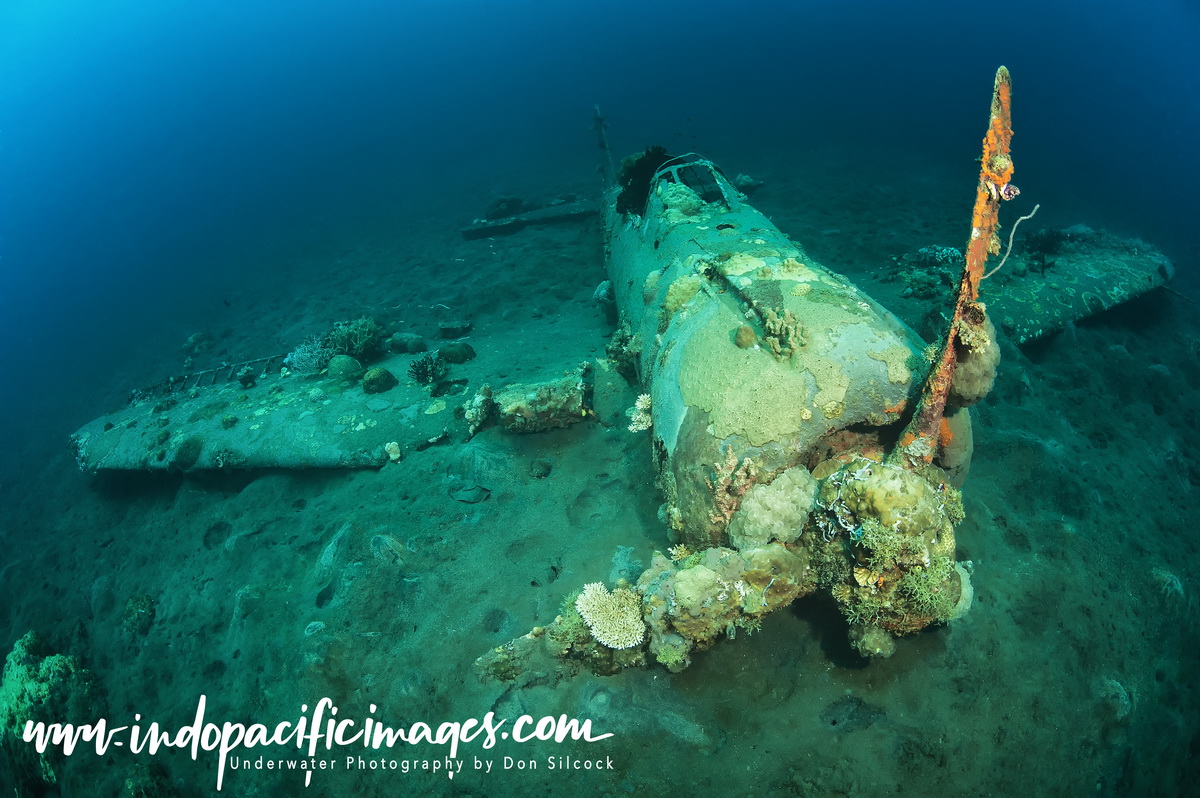 Both the Witu Islands and the Fathers Reefs do have dedicated volcanic black sand sites that host a nice variety of critters – plus they are excellent for night dives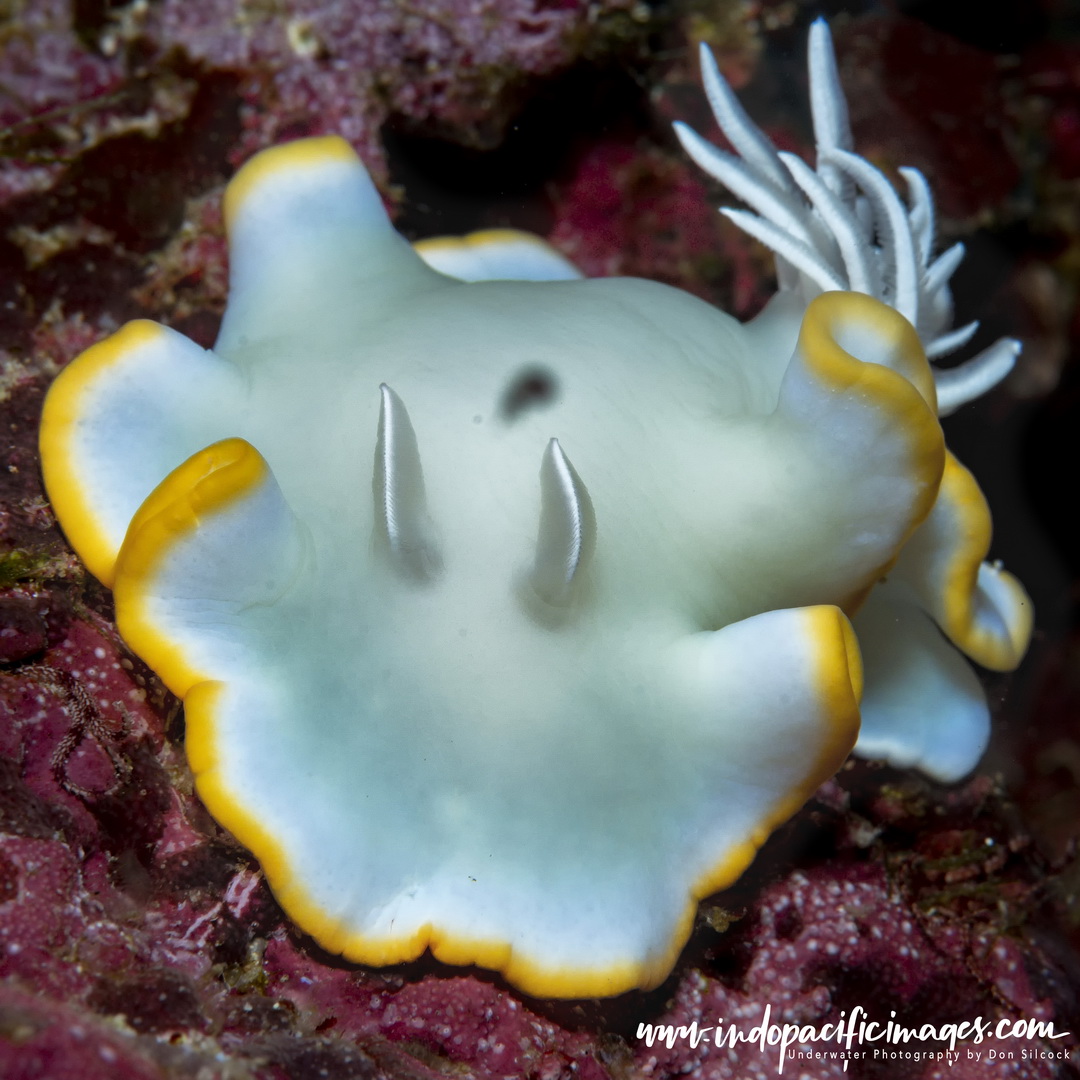 Rabaul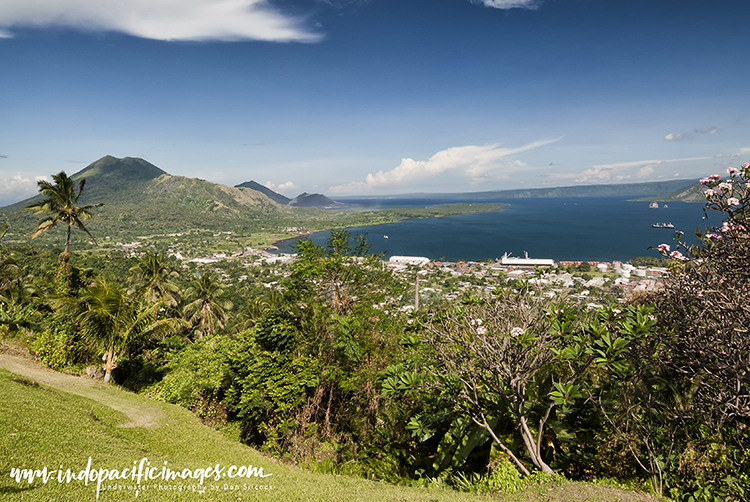 Located on the rim of a huge caldera that forms the superb natural anchorage of Simpson Harbor.
It was that harbor combined with the town's strategic location that made Rabaul a prime target during World War II and was the second place captured by the Japanese forces when they invaded Papua New Guinea in January 1942.
Rabaul became the main military base for the Japanese in PNG.
But when the tide of war turned the Allied Forces counter-attacked. And Simpson Harbor became the last resting place of an estimated 54 Japanese ships…
Although only about 10 of them were accessible. Rabaul was the wreck capital of scuba diving in Papua New Guinea!
Until September 1994 that is, when two of the six large volcanoes around the rim of the caldera erupted. The eastern part of Rabaul was decimated and many of the best wrecks were smothered in grey volcanic ash.
26 years have passed since then and time has proving to be a great healer as several of the wrecks can now be dived again.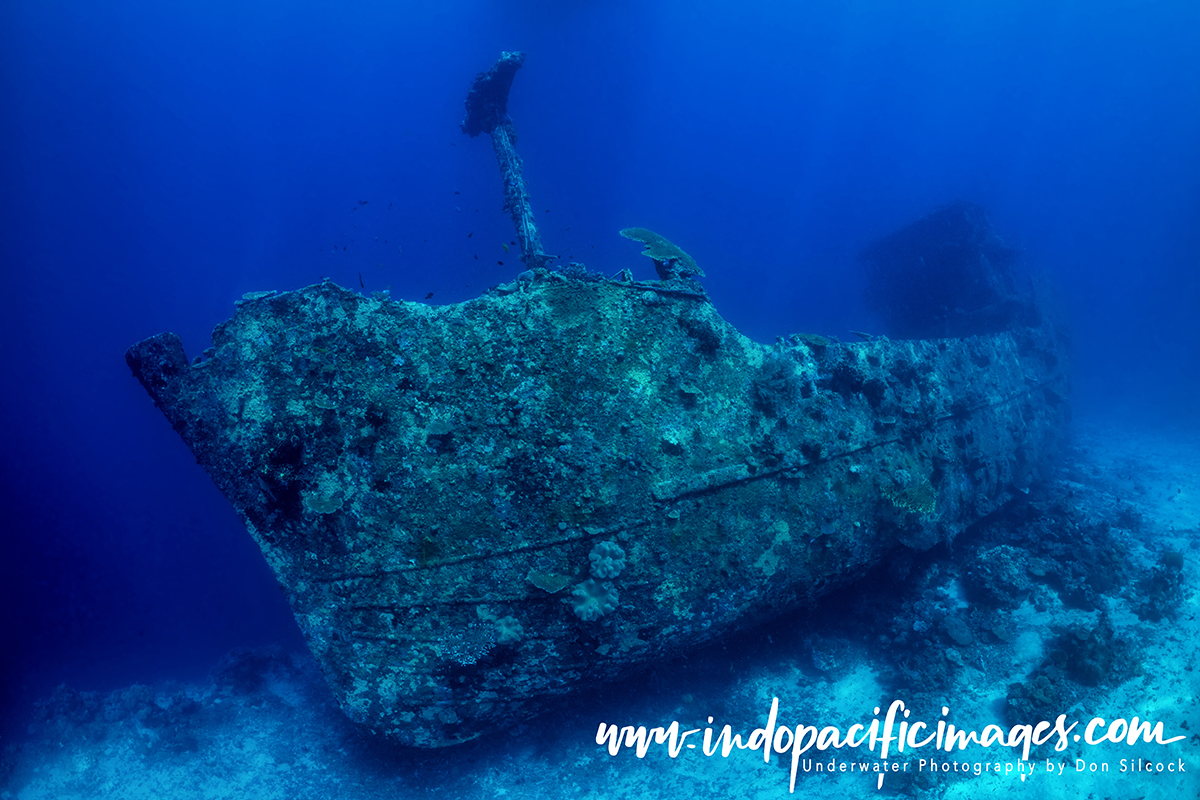 That wreck diving in and around Simpson Harbor is principally all wide-angle photography and if you want critters, then Johnny's jetty in Kokopo is the place for macro photography in the Rabaul area.
This large jetty has a large assortment of critters both in the sand underneath and around the jetty plus it piles are host to more. The piles are also a great place to spot numerous frogfish!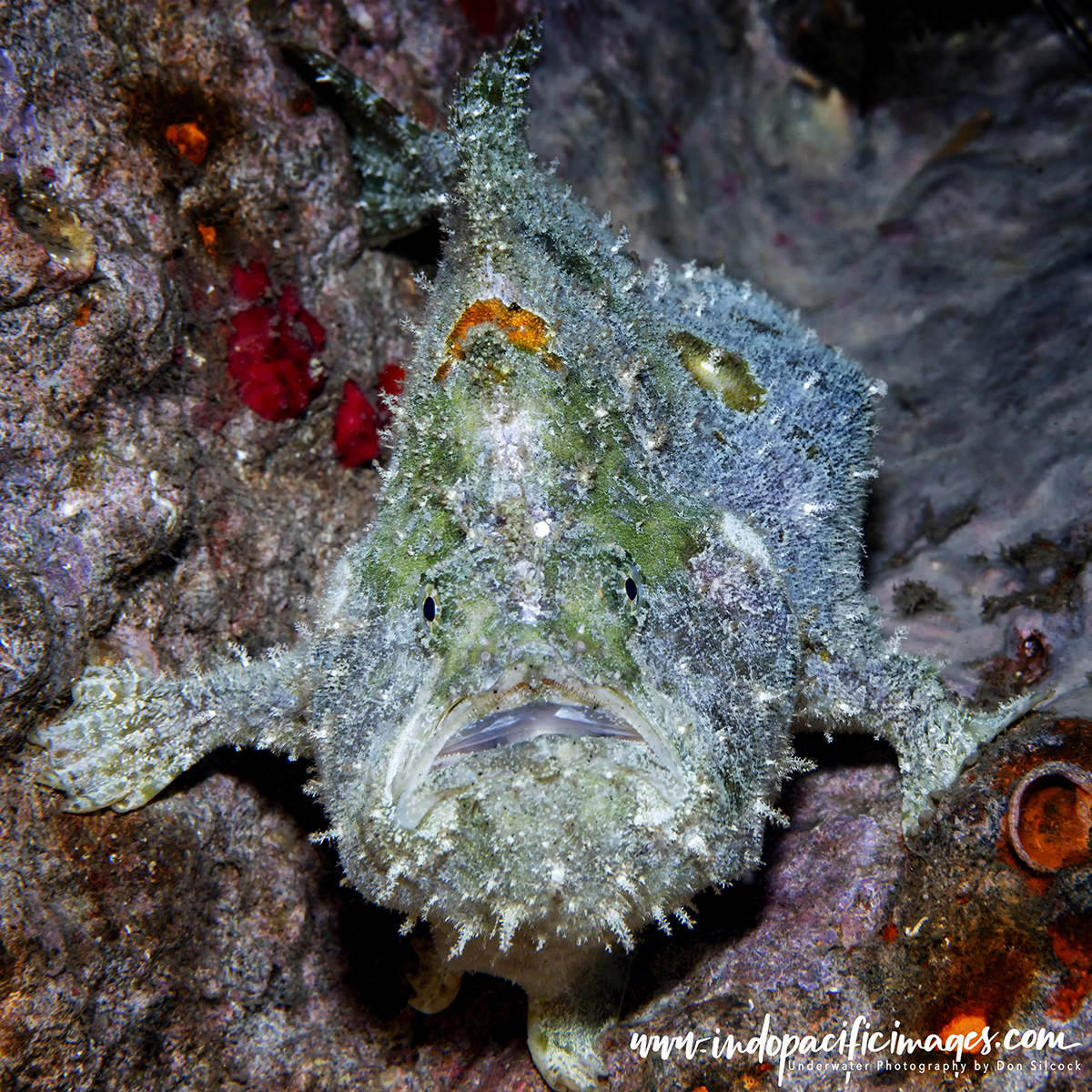 South Coast
The south-eastern half of New Britain is what you might call a remote location. There is only one logging road over the mountainous hinterland from the north coast of the island. There are no airports – so the only way to access the south coast is by boat.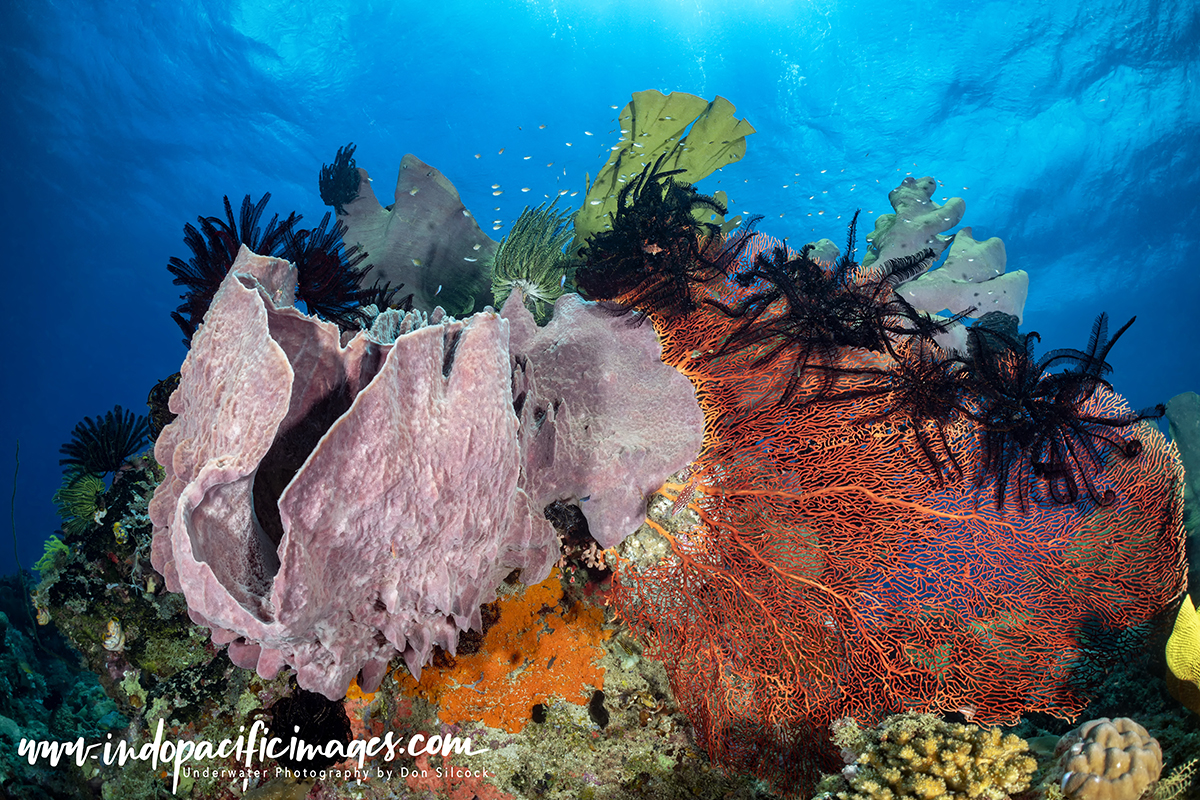 Those mountain ranges isolate the north coast from the south and create the specific weather patterns of New Britain.
The south coast seasons are effectively opposite to the north. So, when it's the wet season in the north it's the dry in the south… Underwater the area has a mixture of remote and untouched reefs, some excellent critter sites and a few WWII wrecks.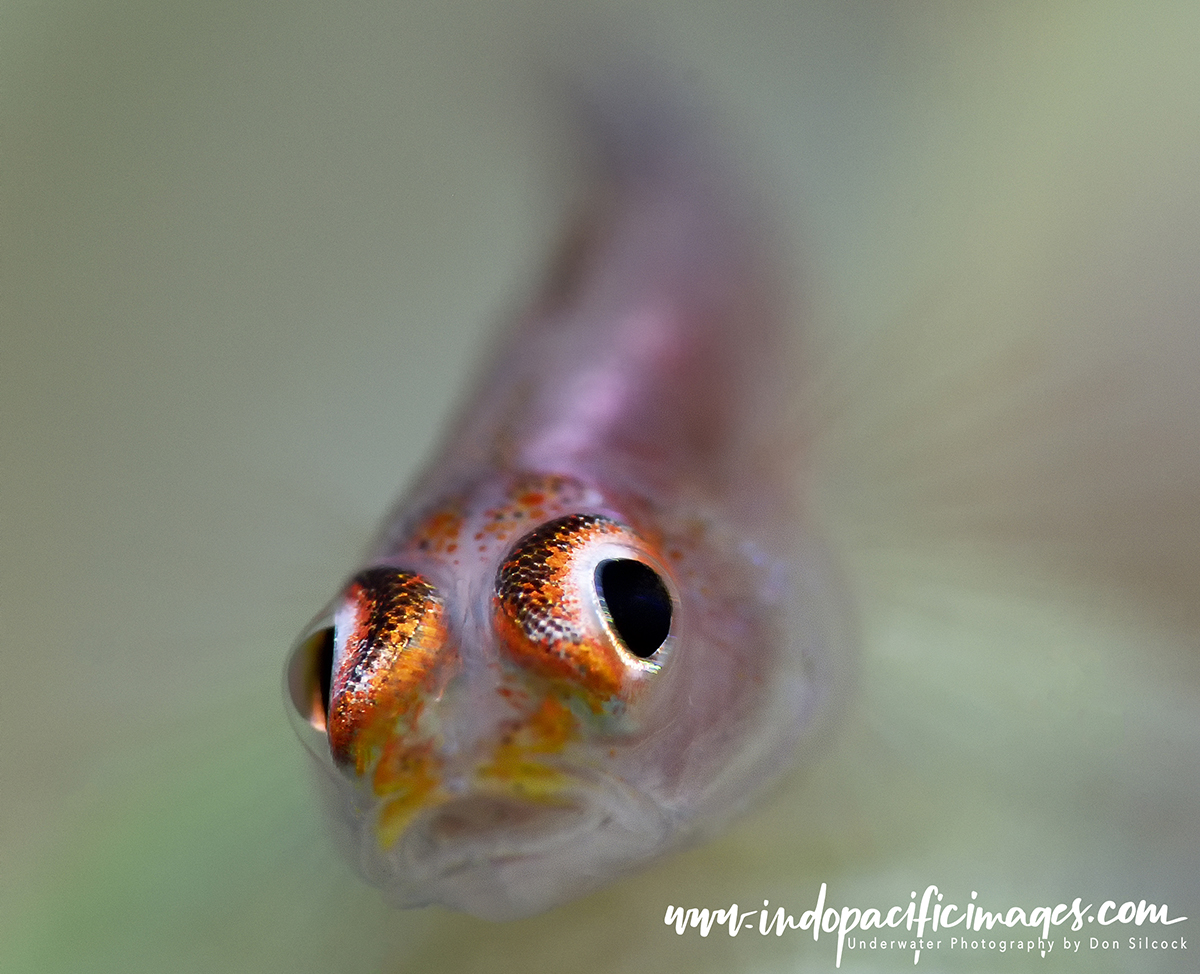 So, from an underwater photography perspective, there is something for all tastes on the south coast!
You can use the following link to read more about about the remote south coast of New Britain. An area of scuba diving in Papua New Guinea that very few divers have experienced!
Check out the Complete Guide to Diving New Britain to understand more about this beautifully scenic and incredibly bio-diverse part of Papua New Guinea!
Underwater Photography in Papua New Guinea – New Ireland
Geographically last (going west to east…), but by no means least is New Ireland Province. The long, musket shaped island lays at the far eastern end of the Bismarck Archipelago. And is famous for its unique Malagan carvings and traditional culture.
Divers know the area for its WWII wrecks, large pelagics and the big currents that sweep through its northern islands. While surfers travel to New Ireland between late October and April to enjoy the swells coming in from the north-west and north-east and the 4-6ft waves they produce.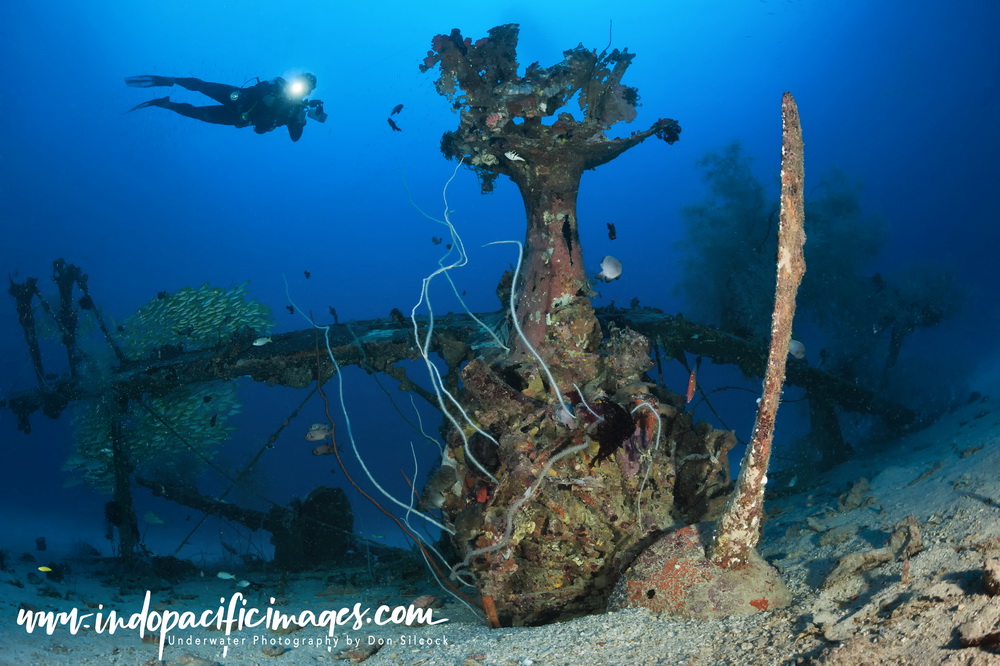 The province consists of the large main island of New Ireland. Plus numerous other smaller islands, the largest of which is New Hanover.
The diving concentrated around Kavieng on the Pacific Ocean side of north New Ireland is mainly wreck diving. So mainly wide-angle, but the wrecks really do offer some great photo-opportunities!
While over on the Bismarck Sea side it is mainly reef diving, which offers a great combination of both wide-angle and macro underwater photography!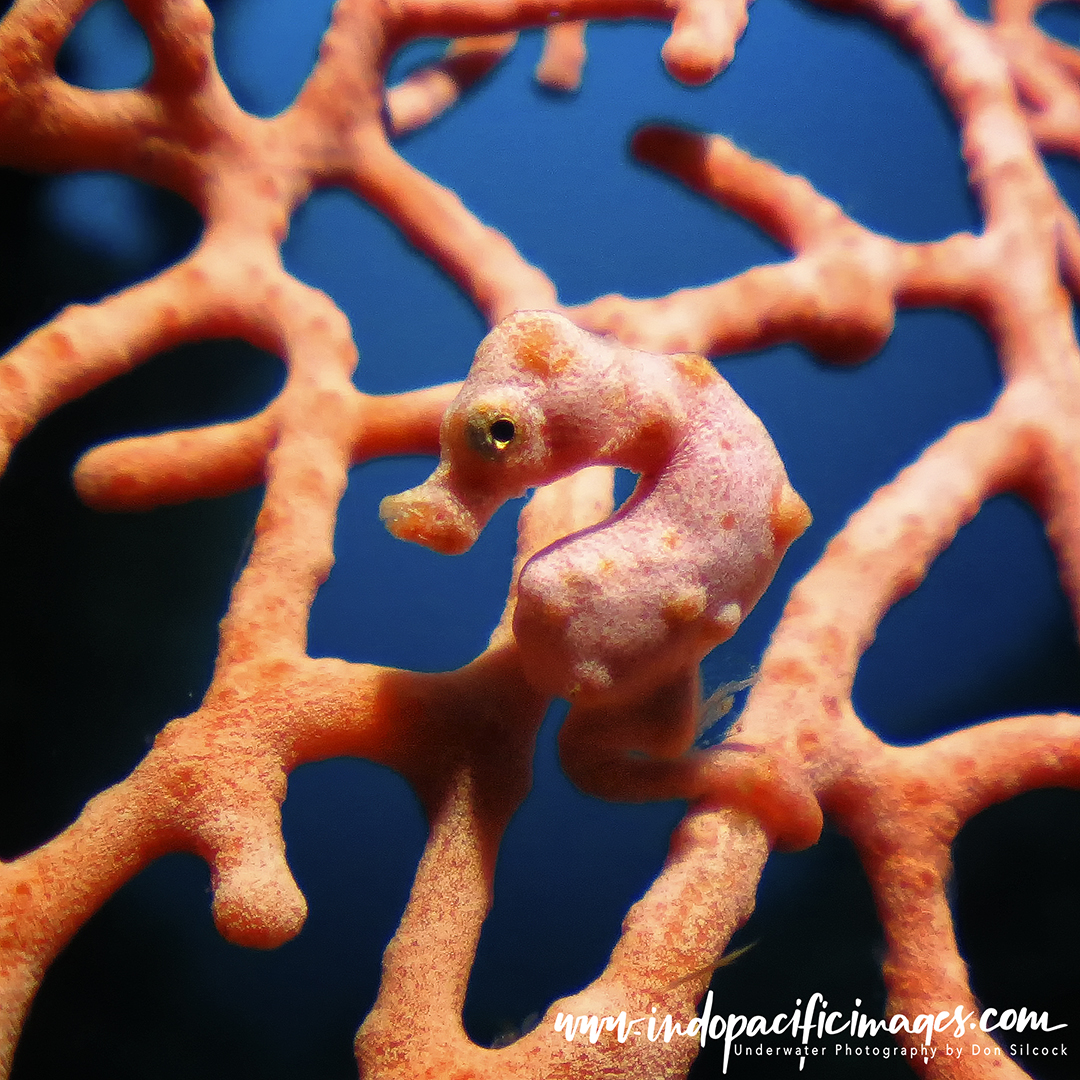 New Hanover offers more Japanese WWII wrecks, including an extremely rare mini-submarine and some tremendous reefs. But the area is is remote and rarely dived so if you get the chance to go there – just do it!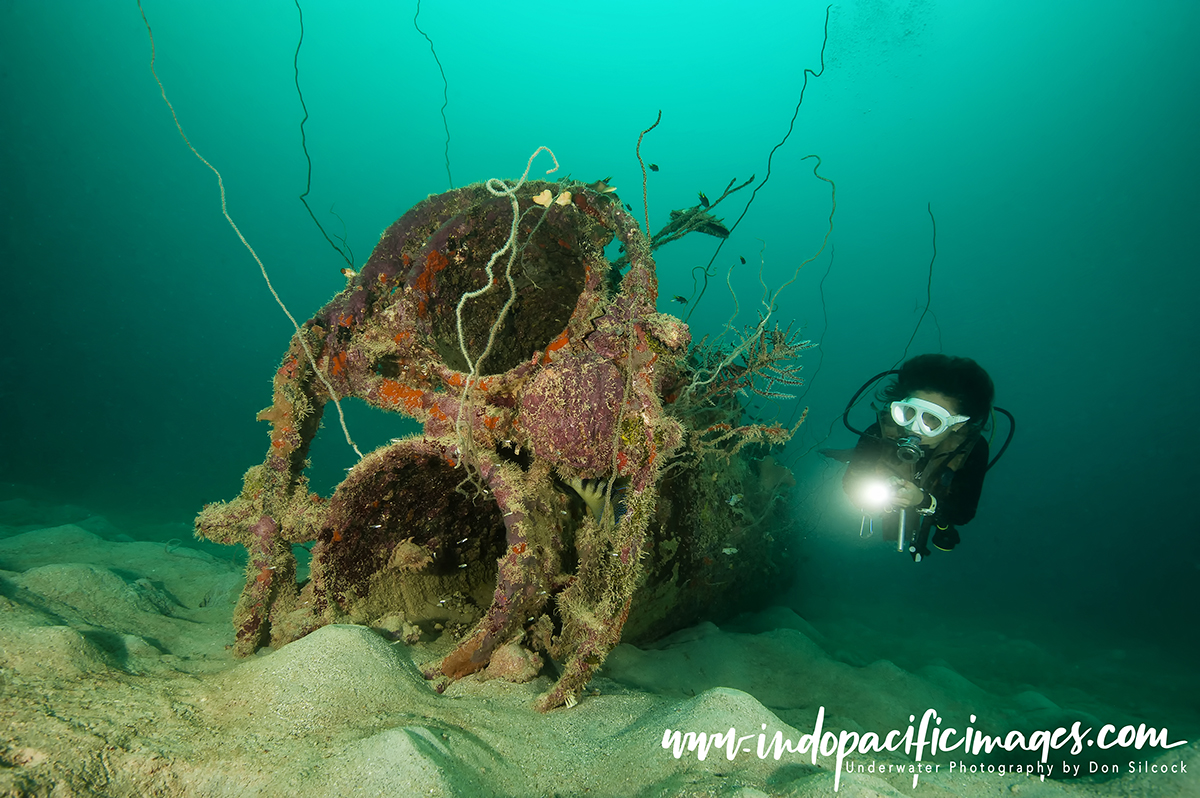 Check out the Complete Guide to Diving New Ireland to help you plan your trip to this very pleasant, remote and quite special part of Papua New Guinea.
Underwater Photography in Papua New Guinea – In Summary…
There really is some tremendous scope and great opportunities for underwater photography in Papua New Guinea. The country is a really special place for me and I have been going there for over 20 years – at least once per year. It's not the easiest place to travel to and there is an element of danger in Port Moresby. But it's all manageable and very rewarding!
I have included some of my best images in this article so you can see what those opportunities for underwater photography in Papua New Guinea look like – please respect my copyright.
There are dozens of pages on this site on the main diving locations in PNG. Plus I have written numerous articles for various diving magazines. So please check them out and if you don't find what you are looking for, you can contact me directly and I will do my best to answer quickly. But please read the content first…